Back to Articles
Our Stories - The Overall Sisters
The Overall sisters - Maxine Cole, Margaret Norton and Elma Jennings - are found most Sundays in the center section of the sanctuary. It's a tradition going back to their mother, but more on that later.
The roots for these three in First Baptist Church branch beyond those rows. Each said they've been in the church "all our lives", with Margaret and Maxine noting they still have in their possession the "Cradle Roll" presented to the youngest in the church on their first birthdays.
Margaret would spend time away from the congregation when she lived out of the area but would eventually come back to her home church.
The three said they walked to church, living about three blocks from the church on what was called "Back Street" - or Jackson Street behind the former Annie Lloyd School on Washington Street.
The seven Overall children - one boy and six girls - included Stan, Norma, Lorene, Maxine, Doris Jean, Margaret and Elma.
Elma had a photo of the siblings taken on a Sunday before the walk to church.
"We had to step up on a wall about that tall," Elma said, motioning with her hands the height of the concrete structure. "And, cut across the playground and walk up Murphy Street down Franklin Street to the church.
"When we walked home, sometimes we would walk home down East College Street where the railroad tracks were," noting they would take the route to see the large fan at Giessing Milling Company located on that route. "It was really noisy, and we liked to walk home that way and see that run."
In this particular photo, Elma - the baby of the family - has a scowl on her face in part because she recalls already starting the trek to church and being called back to take the photo.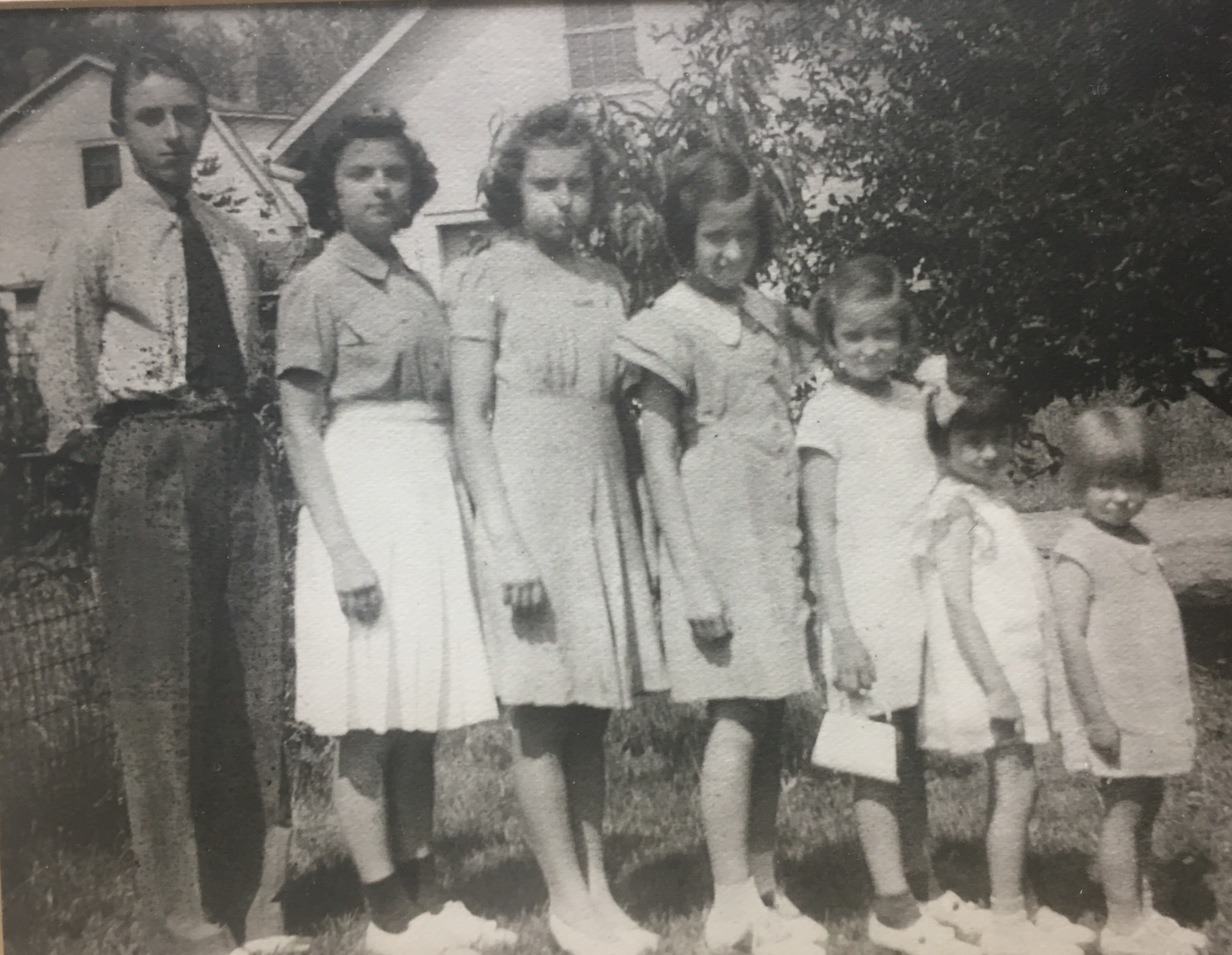 Sunday evenings were spent at Training Union - BYPU for Maxine and BTU for Elma, they recalled. They were also active in Sunbeams, GA's and other fun activities at the church each remembered with fondness.
Elma remembers going to Bates Creek Camp as a youngster, while older sister Maxine camped in a cabin at Lake Killarney. "Sometimes that was a hardship for mom and daddy - it was either $4 or $5," Elma said. "Now, that was a lot of money way back then."
They've had seven ministers at the pulpit during their time at FBC. Rev. Crockett baptized Maxine, with Rev. Stone baptizing Margaret and Elma.
What role did the church play in the lives of the Overall siblings growing up, the trio was asked.
"The church was our lives," Maxine said. "That was our social lives and the church is my social life today.
"The church has meant a lot to us. It's where we accepted Jesus as our savior."
Margaret said they were not allowed to do any other activities on Sundays if they missed church.
"But, we wanted to go," Maxine said.
Elma recalls tying up their offering in a handkerchief - a nickel for her and pennies for Maxine when she was younger.
"I can remember a time or two I wanted that money more than I wanted to give it to the church," Elma said. "I can remember Lodene Dugal saying 'God loves a cheerful giver.'
"Well, I wasn't cheerful and I got home with it. When I got home with it and it was discovered, I couldn't go anywhere that week. Period."
Family roots
The three shared how their maternal grandparents attended Three Rivers Baptist Church.
"(Their grandfather) was a deacon and was superintendent of the Sunday School department and (their grandmother) was church clerk," Elma said. "She was the one who signed the papers at Three Rivers to start First Baptist Church in Farmington in 1882."
Their great grandparents donated the land for the Three Rivers Cemetery as well.
They began to sit up front in the sanctuary when their mother developed macular degeneration. "She could see better and hear better when she was down there," Maxine said, noting their Aunt Ruby began attending church and sitting down close as well.
They would continue the tradition after their mother passed away. "We sat on second row from the front, then she graduated to the third row from the front and now we've graduated to the fourth row from the front," Elma said.
Maxine said they made a discovery when researching the church history a couple years ago for the timeline hanging in the hall to the sanctuary.
A ledger book listing offerings showed where their mother gave 25 or 35 cents as offering. "It was so amazing," Maxine said. "After she could go (to church), because there was years she couldn't go...but, once she got her family raised she was faithful. "She got me there a lot of Sundays that I probably wouldn't have. She kept up going."
A familiar face sitting with the sisters each week is James, who makes sure they are sitting in the right spot each week. He's been sitting with the sisters for more than 30 years now.
Reflections
At the end of the interview, the three shared just a piece of what they love about First Baptist Church of Farmington.
"I love the greeters they have, especially at first (service)," Elma said. "If Loman Stone didn't open the door, I would knock on the door" noting with a laugh she now has Keith Bishop and Tom Heberlie "trained" to watch for her.
"The church is a sanctuary for you," Margaret said.
"When I open the door, there's a peace," Maxine said. "I just have sense of peace coming over me and I just want to be there."